Its seems like an eternity since we last told you about the Angry Birds kart racing game called Go! After an endless amount of teasing, we can finally download the game onto our Android devices today. The popular bird franchise is taking a daring leap into a completely different genre and we shall know soon enough if they've managed to make the leap successfully.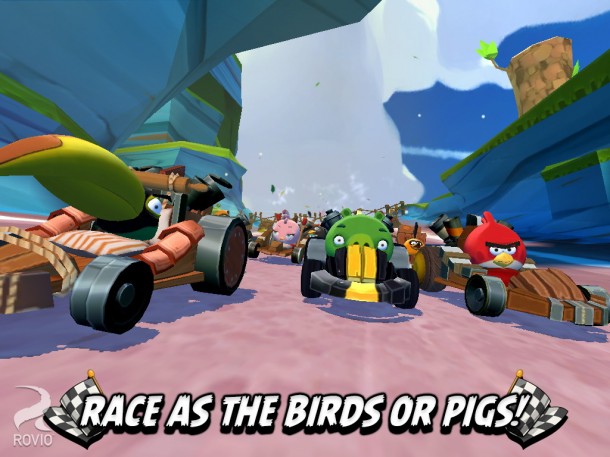 If you happened to have missed all our previous stories on the game, here's the recap. Angry Birds Go! is a downhill kart racing game that takes place in Piggy island. You get to jump behind the wheels and race as the birds, or if you like, take your chance to race on the side of the pigs. It's a complete freewheeling game where you can use weapons, powerups and every other trick in the book to beat the race leaders and emerge victorious.
You have the option of using in-game currency or IAPs to upgrade your rides, plus you also have the option of using telepods to transport karts on to the game. (Don't forget to let "Santa" know that you're expecting some toys in your Christmas stocking!)
As far as the action goes, Rovio's put in all the right ingredients for the job; plenty of racetracks, stunt roads, air courses and off road races each bringing their own twists and challenges to the game. There are also game modes such as Race, Time Boom, Fruit Splat, Champion Chase and Mega Match that should keep things refreshing and exciting for players.
Angry Birds Go! is free to download. What are you waiting for? Go get 'em!