Pocket Gunfighters from Gamevil doesn't really give you a good enough reason to go on a shooting spree, but I guess most shooters hardly have a gripping storyline anyway. In this game you take control of a team of gunfighters and travel through time to get rid of the evil villains who want to change the course of history.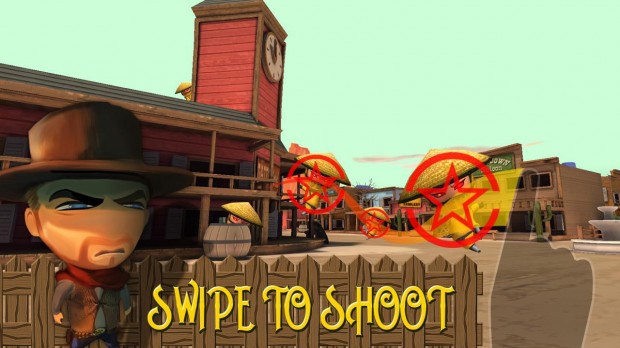 That's flimsy enough reason for shooting just about anything in sight and with a variety of weapons including pistols, shotguns and machine guns at your disposal you soon get into the tapping and swiping actions with plenty of gusto. There's not only shooting to be done though, you will be shot at too, and must dodge incoming fire every now and again.
As you progress through the game, you upgrade your weapons and acquire new competent gunfighters to shoot harder. Your gunfighter has a cooling off period of about 30 minutes if he loses a game, which may tend to slow down your progress somewhat. Often you are reminded to pick up the game's pace by buying stuff using IAPs so do be prepared for it.
The game comes in two modes: an Endless mode where you can see how far you can go on shooting down enemies and a Story mode where you progress through time to collect the greatest gunfighters of all times. Completing in game achievements bring you exclusive rewards, which can only make your gunfighters stronger.
There really isn't more to Pocket Gunfighters though but if shoot 'em ups are your kinda entertainment, you can download out this free-to-play game by hitting the link below.