South Korean game developers and publishers WeGo Interactive Co. have released the sequel to the popular radio control car racing game Revolt Classic. The new and improved version of the original is called Re-Volt 2: Best RC 3D Racing and brings new stages, racing missions and Grand prix events from around the world.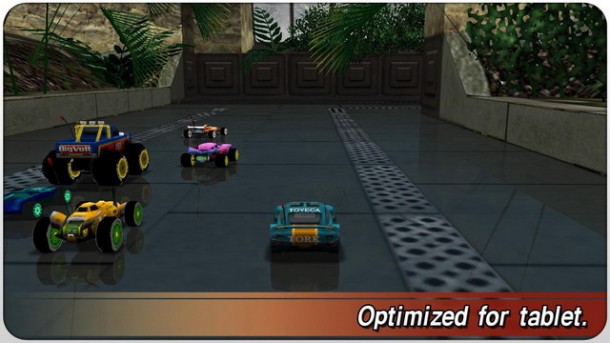 If you've never been on an actual RC car, you'll be delighted with the wide variety of models available for racing; formula cars, sports cars, monster cars, and even trucks. You have a couple of modes to race; the Challenge mode lets you participate in single race games and complete missions and the Grand Prix mode lets you compete with global players on 5 new tracks each week.
No race game is complete without options for customization and in Re-Volt 2 you can choose a unique skin that represents your personality as well as upgrade the speed, accelerating force, handling and stability of each car. Should you have any difficulty racing, you can  make use of the power ups and weapons upgrade system to beat your rivals.
There's plenty of social interaction in Re-Volt 2 as well. You can not only compete with your Facebook friends but also ask for their help and check out all the unique cars designed by them. You can also try your hand at the Lucky Wheel to win some cool items or win the Jackpot. There are also exciting rewards for players who win 3 stars in the Challenge Cup Stage.
Re-Volt 2 will look good on your tablet device as it has been optimized for large screen devices. So, go ahead and download this cool racing game on a device of your choice for the price of free.