Pac-Man the little yellow fellow who roamed mazes and gobbled up dots and ghostly spirits achieved iconic status when the game was first released to audiences in 1980. Almost three decades later, his iconic status and popularity haven't faded. That's why, yet again, players will find themselves hitting this download button to revel in more mad cap pac-eating action, this time in an endless running mode.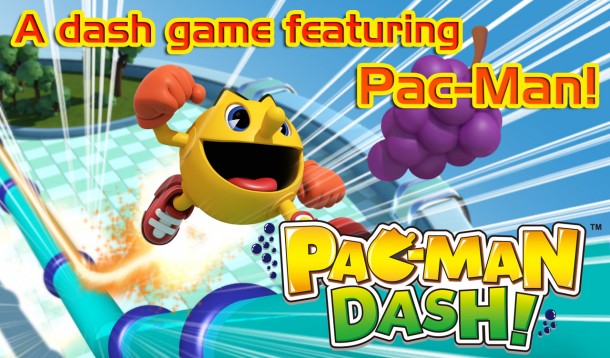 Pac-Man Dash features simple single tap controls to zip across multi tiered platforms and devour plenty of cookies, fruits, and incoming ghosts while cashing in on the big scores. As with most endless runners, stamina is what keeps the Pac running and players will probably have to hop in to the Store to buy more running power rather than wait for a recharge. Gobbling ghosts will buy precious extra seconds and cookies should let players rent some uber cool game characters with different skills and abilities.
Pac-Mac Dash adds a couple of interesting twists to the game. The first one is the ability to save up to four different games, which will be synced via Google Drive. That means friends and family can also join in the fun, share cookies between themselves, or even compete against each other for the longest run. Secondly, players in the USA can scan Pac-Man toys ( shades of Angry Birds Star Wars II, I hear) to rent them within the game for 7 days at half the cookie-price. Interesting!
Pac-man Dash packs a punch with some truly dynamic power ups such items that will let players jump further, dash faster, and even become a ghost and cookie magnet! Bright happy colors, eye-grabbing graphics and vibrant soundtrack only adds to the game's allure.
Pac-Man Dash: Key Features
Single tap controls
Plenty of stages, ghosts, monsters, and characters
Clear over 70 missions to win presents
Loads of power ups
Option to save 4 different games to play with friends and family
USA Specific: Scan Pac man toys to rent them.
Whether you're an old fan or a newbie, you may find it to hard to resist the excitement that only a Pac-Man can generate. If you're still reading this post, here's the download link once again.