Gameloft generated plenty of excitement when it unleashed new screenshots and game trailer for its hotly anticipated gravity defying car racing game Asphalt 8: Airborne last month. The game has just hit the Play Store now so get ready to fasten your seatbelts and burn some rubber!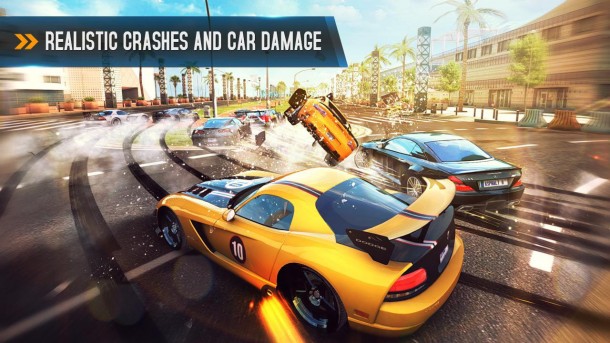 But not before you check out these mind-blowing features.
A fantastic collection of luxury dream cars from top rated manufacturers, including models like the Lamborghini Veneno, Bugatti Veyron, Ferrari FXX and Pagani Zonda R. You can take them for a spin in exotic locations such as Venice, French Guiana, Iceland, and the breathtaking Nevada Desert.
Asphalt 8's brand new physics engine will let you perform hair raising stunts while being airborne; such as launching vehicles off ramps, performing barrel rolls and completing 360º jumps. Speed junkies can enjoy adrenaline pumping features in the form of 8 new seasons and 180 events in the Career mode. Two new game modes will also be making their entry in Asphalt 8; the Infected Mode will force the last-place car in a lap to be eliminated, while the Drift Gate Mode will encourage players to challenge each other to drift through multiple gates.
There will also be an expansive and detailed damage system, stunning visuals with next-gen shaders, improved speed simulation, high-fidelity car motor sounds, and some real licensed bass, rock, and electronic music from the likes of Bloc Party, Mutemath & The Crystal Method to keep up with the crazy racing tempo? Excited already?
Well, there's more! Players looking for multiplayer action can challenge up to 8 opponents from around the world, or simply challenge friends to asynchronous races.  No competition is complete without a scorecard, and the global leaderboards should keep players highly motivated and continually challenged. You also get to brag your racing achievements with social contacts and show them who is king of the track!
If you are looking for an absolutely gorgeous, fun-to-play, phenomenal racing adventure, grab your copy of Asphalt 8: Airborne now for just $0.99.