The long wait for the best tower defense game sequel is finally over. Ironhide Game Studios has released the bigger, badder, and bolder sequel to Kingdom Rush, retaining much of the original's gameplay, while at the same time adding plenty of new enhancements and features.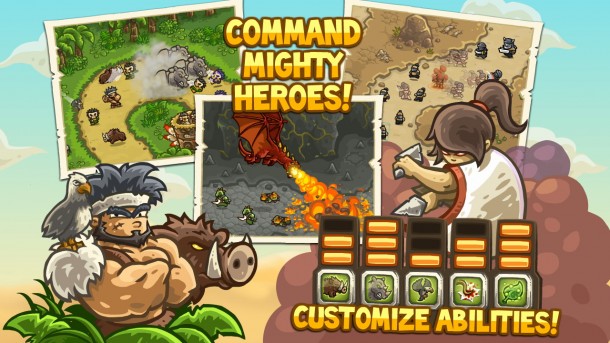 Kingdom Rush Frontiers is set in a fantasy world where mythical monsters such as dragons and man-eating plants are hell bent on rampaging your kingdom and you have to do what you do best: DEFEND. With fixed paths set for the action to unfold, you choose your buildings carefully, power them up with some special upgrades and crush your enemies to a pulp.
Kingdom Rush Frontiers is packed with plenty of content; there are over 40 enemies to tackle, 70 achievements to earn, 11 heroes to train and three game modes to test your tactical skills. The developers have ramped up just about every aspect of the game from new tower abilities and upgrades to special tactical units and monsters. Here is a long list of TDS goodness that Kingdom Rush Frontiers offers:
Key features: Kingdom Rush Frontiers
Exotic news lands – deserts, jungles and the underworld!
8 specialized tower upgrades –  Crossbow Forts, Mighty Templars, Necromancers, and even Earthquake Machines.
Over 18 tower abilities including Death Riders, pestilence clouds, Assassins!
Over 40 enemies with unique abilities.
Eleven legendary heroes!
Special units and features on every stage!
Merciless boss fights!
Hours of gameplay with over 70 achievements!
Classic, Iron, and Heroic game modes !
Three difficulty modes!
Hit the download link to enjoy awesome TDS action for $2.99.