Dust off your old cleats and get back on the AstroTurf field because the ever popular sports game FIFA is back with FIFA 14 and EA is bring it for all devices including Android! Not wanting to be just a rehash, FIFA 14 is bringing a host of all new features such as pure shot and real ball physics.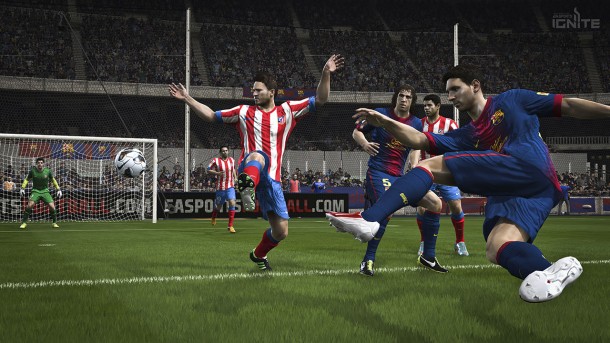 Pure shot essentially gives the player a lot more control over shooting at the goal. It gives the option and intelligence of the player preparing a shot before shooting. This is to better emulate real football and soccer (for you Americans) players to combine the elements of perfect timing, anticipation, and great positioning which give a better sense of realism in FIFA 14. This pure shot idea will be shown in new animations that will replace the old animations of foot sliding, skipping and scissor kicks.
In addition to the pure shot dynamics, FIFA 14 has improved the actual physics for the ball so it will act like a real life football. This was done with a whole new formula which dictates ball flight path and trajectory. These new real ball physics allows for better and more shot options. You can strike the ball forcefully from a distance, drill low rising shots, do blasting shots and swerving shots. Even cooler is that turbulence is now going to be a factor in FIFA 14.
These new features in FIFA 14 really are making huge strides in making a virtual sport like football to be as realistic as it can and giving the players the feeling of being real professional footballers.