The Plants vs. Zombies that you've been enjoying since it was released has undergone a dramatic transformation in its latest update. EA has completely done away with the old map structure and brought in a new one, which is expected to make it easier to navigate the different stages in the game. Gone is the three stage mapping structure which took you through Ancient Egypt, Pirate Seas, and the Wild West. You now have a single long linear path to traverse that will show you beforehand the plants that you will be unlock at each stage.
All these dramatic changes are going to take a bit of time getting used to. The keys that you collected to unlocked gates have been eliminated. If you previously earned and saved up any keys they will automatically be converted into coins. Since you don't have any more keys, you don't have any more gates either. Also gone are the stars that controlled your game progress. If you collected and saved up stars previously you will get new costumes instead of them.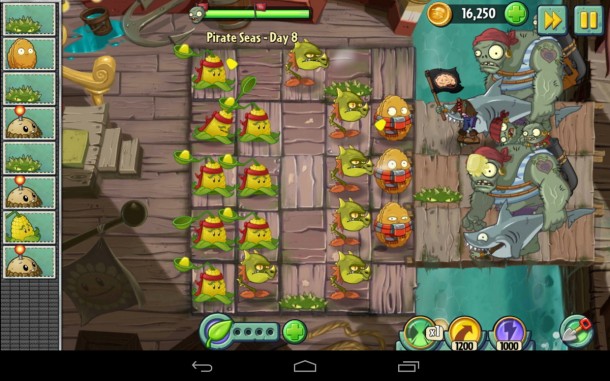 One World key will now act as your progress chart and will let you unlock worlds of your choice. The entire redesigning has been done to help reduce the dependence on IAPs and make it easier to navigate, but how effectively the developers have managed to make the transformation remains to be seen.
On the bright side, there are three features we can look forward to in the latest refresh. One is the "Turbo" button which should speed up the slow opening minute of play. The next one involves the introduction of a new gigantic zombie species called Gargantuars who will be making their entry in each world via special levels. Finally, the social feature has been made more attractive. You can now send brainz to your Facebook friends and if they accept your invite, you'll receive splendid rewards that include coins, gems, and other special items.
One prominent update that I expected to find and didn't was the fourth world. Sadly, it still remains silhouetted against the map and we will have to wait for some more time before we step into it.
If you still haven't downloaded the update, just head over to the Play Store on your device and get started. If you still haven't checked out the game, you're missing a whole lot of fun. Go on and download it from the Play Store now.