PolarBit seems to be those developers who just can't get enough of racing. With a string of fantastic racing games that include Reckless Racing and Raging Thunder 2 in their kitty, you'd think that they would venture into new territory. Their latest release Rail Racing however indicates that they are content to keep dishing out more of the same.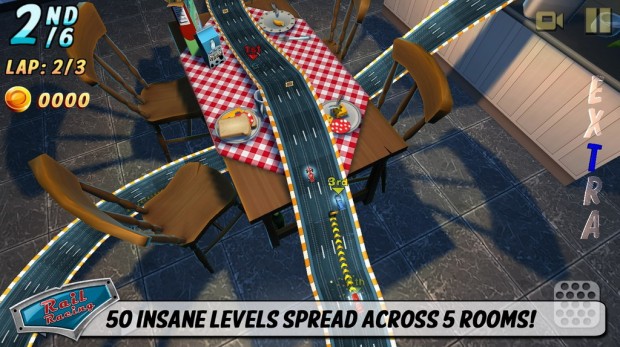 Rail Racing is a slot car racing game that takes place in some creative locations such as a messy kid's room, a dirty garage, a sunny backyard or a dusty attic. The aim of the game is to simply outrace the competition across the fifty or so race racks that twist and turn endlessly.
The tracks are laden with obstacles, coins, boosters and slowdowns and with the option to jump tracks and tackle and shove your opponents out of the way, you'll have your hands full when you venture into a race. Rail Racing comes with 20 cars in 5 classes and you can unlock and customize them with paintjobs and stickers and have a whole of fun doing it too.
There are stars to be earned and big points to be scored, so if you're the competitive sort, you'll be happy to race your way to the top of the leaderboards. Enjoy the simple pleasures of slot car racing with the free to play Rail Racing.