Thought you were done with the undead in divmob games' zombie shooter Zombie Age? If you did, let me remind you that THEY are back, this time in larger numbers, with more power and are ready to create more mayhem in their desperate need for feed. Meet the new age zombies in the sequel Zombie Age 2.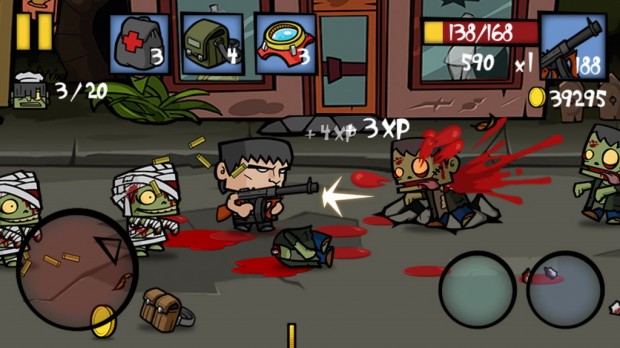 You take your fight to the badass zombies in 7 new zones that include District 13, China Town, an abandoned place, down town, District 9, Greenville and New Hope. Luckily you have a fresh arsenal of weapons and powerful boosts to ensure that they deliver more than just a knock on the head.
The game has plenty of missions and you earn coins for defending yourself successfully. Unfortunately, the virtual control buttons on screen appear to work against you, so expect to stagger and shuffle around with your weapons and die plenty of times before you get anywhere.
Currency earned will obviously let you upgrade your weapons and pick up boosts, but its hard-to-earn nature means you'll always be tempted to dig into your pockets and indulge in some real world currency deals.
The game's cute cartoony elements and the ability to invite your friends to help you take on the zombies are attractive enough elements to entice you to play. Do check out this free-to-play game if you simply cannot do without a zombie shooter.