If you had a chance to fight a duel with your friends, Wormix would be a great way to do it. Developed by Pragmatix, this tactical shooter game puts you in a cartoony world where you have to shoot down your opponent with one of the many in-game weapons.
In Wormix, you can choose your game character, a roguish boxer, a cute kitty, a zombie, a bunny rabbit, or a demon and use each of the characters' special characteristics to your advantage. To get started, you can go to the arena, select a mission and then square off against your opponent. You can play with your friends on a single device, or go multiplayer after you hit level 4. There are also big bosses to tackle after level 6 of the game.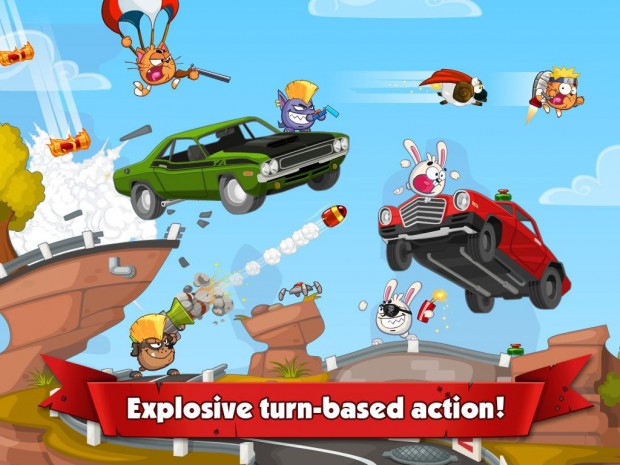 The virtual buttons at the left of the screen will help you direct your shot at your opponent and move around. You get 30 to 40 seconds to make your shot. When you knock out your opponent you earn experience points and money. You will also be able to pick up health points and weapons after shots. 
There are over 50 different types of cool weapons at your disposal ( flying saucers, mini spiders, uzis, jet packs, antitoxins, drill rockets) and you can pick and choose one that will be ideal in a given situation. If you want to take a break from all the action, you can accessorize your game character with hats, masks and other artifacts.
You can share your winning scores on Facebook and even grab a screenshot of your best shots and show off to friends. There are also plenty of cool awards for your achievements; rubies, fuzzezs and other daily bonuses that you can use to improve your skills.
One annoying thing about the game for me was the extraordinarily small size of the game characters that had me squinting at the screen right from the start. Wormix certainly tests your skills of aiming, shooting and strategizing but you are also likely to have a lot of fun doing it. It is available on the Play Store for the price of free.