Halfbrick Studios, the guys who brought you super-fun games such as Fruit Ninja and Jetpack Joyride are back with another colorful adventure game called Fish Out Of Water!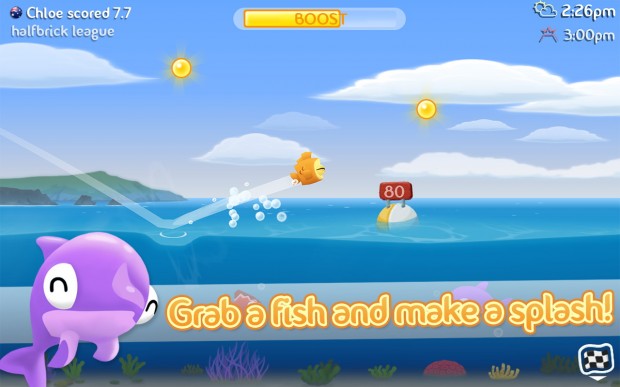 If you can fling birds and have fun doing so, why not fish? In the game, you get to help a group of six friendly fish soar over the deep blue ocean. You must flick your fingers across the screen to throw them right out of the water. Your efforts are then judged upon by a Crab Crew who will score you based on the total distance covered and number of skips.
The game's animations are bight, colorful and cartoony and its just as delightful watching them fly through the clouds and along the pretty waves as it is racking up top scores.
The sea is filled with its own dangers such as changing weather conditions, mind boggling tsunamis, fearsome icebergs, and poisonous jellyfish that can make life difficult for you. Luckily, as you level up, you will be able to unlock special crystals that will unleash bonus powers to ease things.
The game also offers daily competitions where you can challenge your friends and participate in a variety of individual events. Fish Out Of Water is a totally fun game that is available on the Play Store for the price of free. Give the game a whirl and tell us if you enjoyed it.