Have you played the fun speedrunning platformer Mikey Shorts from Noodlecake Studios? If you have, and you loved it, here's a chance to meet up with the pint sized hero of the game again.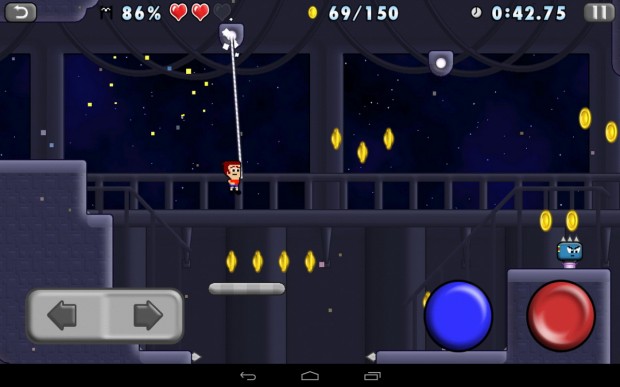 This time he's appearing in Mikey Hooks, a game that will still have him running, jumping, and sliding, but he's also picked up a new skill since the previous game. He now possesses a hook which gives him the ability to latch on to specific areas in the environment and swing forward.
As usual there are obstacles along the way in the form of spikes, robots, and bottomless pits with plenty of coins to pick up while you're dodging them. The game itself is split into 6 unique environments with a total of 36 levels to play through. There is also a Race mode where you can compete against ghosts in a race to the finish.
As with Mikey Shorts, you can customize your hero with fun disguises and there is even the option to customize the controls to play at your convenience. For the competitive at heart, Google Play Services offers options to earn achivements and vie for top scores.
Mikey Hooks may not have much replay value, but there's plenty enough that will bring a smile to your face. If you're into fun speedrunners, grab this game from the Google Play Store for $0.99.