Gamebook adventures are an interesting genre of games that let you experience the excitement of an adventure in a story reading format while at the same time making choices that will determine its final outcome. This may not be everyone's cup of tea, but fans of the genre don't have to be disappointed by in-frequency of titles on the Android platform.
Tin Man Games, known for their gamebook adventure games should keep you engaged for hours with their recent release GA9: Sultans of Rema. The game continues the adventures from their previously successful gamebook Slaves of Rema.
If you still haven't checked out the game, here's a little bit of info that should perk your interest.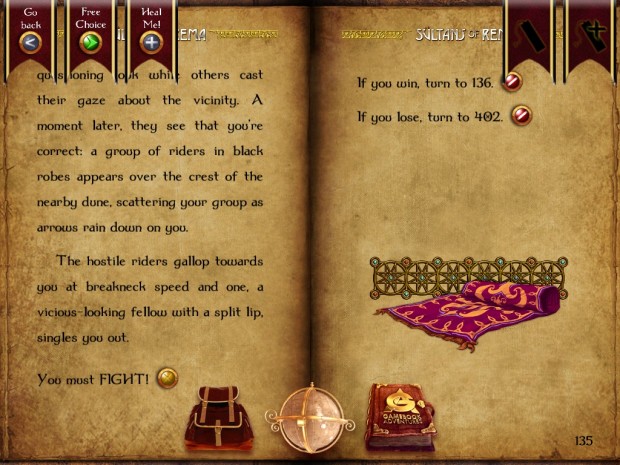 Sultans of Rema takes place in the state of Callae, which is a renowned center of learning. The sick Emir of the Emirates of Akbir has always been tolerant of the political learning of Orlandes. Unfortunately his successor does not hold the same view and trouble is about to brew in their relationship.
It is your job to prevent this political turmoil and save the fate of both Rema and Orlandes. You can choose to begin your adventure on an easy mode or crank up the difficulty levels to make it more hardcore and exciting.
Josh Wright, who previous illustrations include Temple of the Spider God and Curse of the Assassin takes credit for the rich colorful artwork in the game. You'll also find all the great features of an adventure series included in the game such as reading at your convenience in horizontal or portrait mode, a great soundtrack, a sheet to track your stats and inventory, and a bookmarking system to continue from where you left off previously.
Tin Man Games tells us that you don't have to play Slaves of Rema to play this one. You can jump right in and get caught in the political intrigue and magical drama that Sultans of Rema promises to bring.
Excited to give this one a go? It's available on the Play Store for $5.99.