Fans of military style shooter games don't have to rue the fact that there aren't many such games launching on the Android platform. Indie developer fragOut Studio's Sniper Tactical is filling that void for now.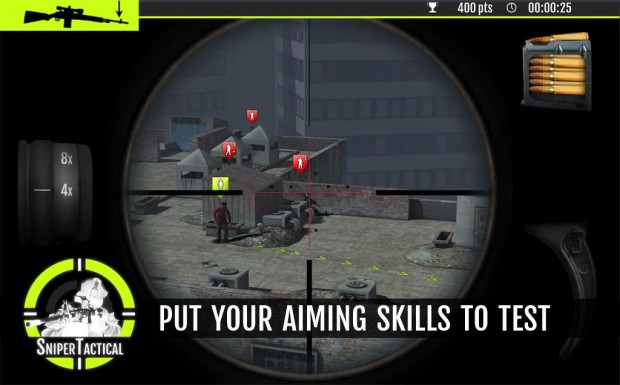 This is a gorgeous looking military SIM where you take on the role of an elite sniper, who must think strategically and employ the best ways to take down the enemies, while at the same time providing a safe passage for the trapped hostages.
The game combines elements of first person shooter with puzzle elements as long range shootouts require you to employ stealth and one or more techniques to accomplish the twin mission of protecting yourself and your hostages as well as knocking off the baddies.
What makes Sniper Tactical more engaging than the usual fare of shooter games is that different enemy types exhibit a different behavior making you think twice before shooting. Less random and more precise action is what is expected of you in the game.
Completing missions and unlocking achievements will enable you to upgrade your paltry weapons for more powerful ones. Powerups such as grenades or bullet time mode will also come in handy in tense situations where you need to take down multiple enemies in one go.
Sniper Tactical is a thinking man's FPS and if you've got the skill and patience to be a world class marksman, take a shot at the game which is availavble on the Play Store for the price of free.