MH Production's Helidroid 3 : 3D RC Helicopter is a fun mission based game where you take your helidriod for a flight around your big house and do fun stuff such as fly through hoops, follow other droids, blow out candles, extinguish fires, pick up items using magnets and drop them into trash cans.
The key to accomplishing the missions successfully lies mostly in how well you control and manage your flight. You can use the easy controls, a.k.a the two virtual buttons on the screen to control your forward movements and rise and drops. If you like, you can use the slightly more difficult tilt controls or the real RC-copter controls that are usually used in video games.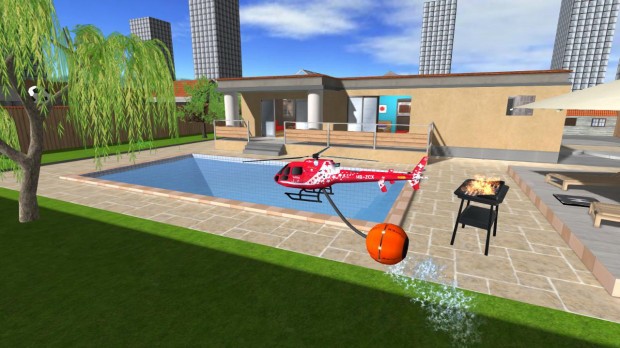 A free flight mode in the game lets you discover your environment, which is a well designed house with a garden and swimming pool. You can also unlock a new mission if you can discover a secret hidden room. You earn stars for all your accomplishments, and since most missions are time based, the faster you accomplish the job, the more stars you earn.
The game should play without lags on a device with at least 1GHz CPU capabilities, but you can always reduce the quality of the graphics in the Option menu if you are having any problems.
Helidroid 3 : 3D RC Helicopter is free to download but you just have to put up with plenty of ads should you choose to play.