This world has had its share of wars (between humans that is). So how about one that involves Martians? It is the year 1913 and Martians have invaded the earth. You are a fearless soldier Gus Lafonde who must survive long enough to defeat the alien warriors and save the planet from extinction.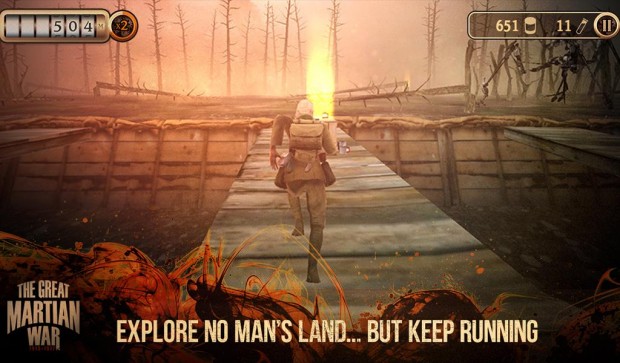 The Great Martian War is an unlikely endless runner that comes with the usual obstacles and powerups. There are land mines, Martian war machines, artillery strikes and tankers to avoid. Collectibles come in the form of rations and victisite (a metal that powers the alien's machines), which can be used to unlock World War I themed powerups.
The game's got some great looking 3D visuals and sound effects, and plenty of content to play through. The developers are promising randomly generated levels in an ever expanding universe with ongoing updates bringing in more and more new features into the game.
The Great Martian War is certainly worth taking a look at for its unique visuals and battle themed gameplay. It is available on the Play Store for the price of free.