Sports Car Challenge 2 is the sequel to the hugely popular sports car racing game Sports Car Challenge by Volkswagen Group (China) and Fishlabs. The latest iteration of the game brings new supercars from top international car makers, improved 3D graphics, and new visual effects. The ABYSS3® gaming engine has ensured that Sports Car Challenge 2 is more realistic than its predecessor with authentic engine sounds, realistic driving physics, and detailed attention to graphics.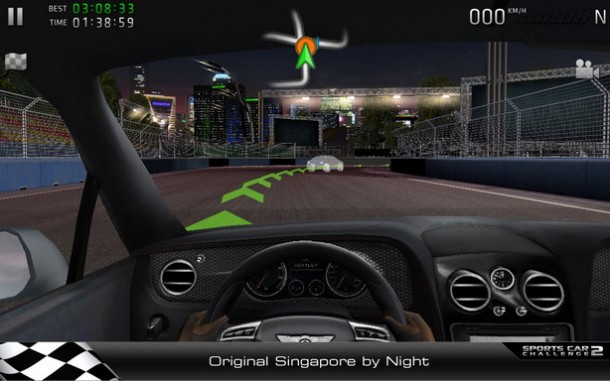 If you like the thought of driving an Audi, Bentley, Bugatti, Lamborghini, Porsche or Volkswagen on the asphalt, this is a game that's going to make it happen. The newest addition to the list of cars is the Bugatti Veyron Grand Sport Vitesse, which lets you touch a top speed of 255mph. You can get a more detailed description of all the super cars at your disposal in the enhanced showroom section and can also customize and tweak the various mechanics to get the right look and feel for your car.
Coming to the race tracks, the game takes you to five of the big circuits in the world; from the Black Forest Circuit in Germany to the Shanghai Audi International Circuit in China or even in the one at Singapore at night. Each of the race tracks have their unique attributes such as different race covers, lighting conditions and elevation. Apart from the slalom and braking modes, which players may be familiar with, Sports Car Challenge 2 includes a new ghost race where players can compete against their own times with the use of phantom cars. Also new to the game is a trophy room where you can place your achievements on parade.
If you're game to climb the top of the leaderboards and become the undisputed sports car champion of the world, grab Sports Car Challenge 2 from the Play Store for free.