Dark Lands, the game that hit Kickstarter at the beginning of this year has landed on Android, although through a peculiar turn of events, which saw the campaign cancelled and publishing rights taken up by Bulkypix.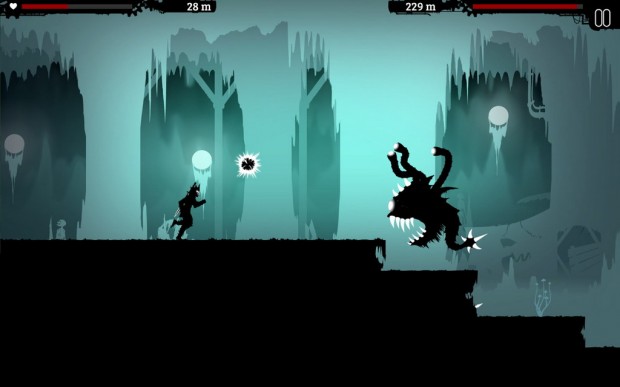 Dark Lands was a roaring success on the Windows platform and it should hardly be surprising as the game has plenty of good things going for it. The game is a mashup of genres, with core platforming elements intermingled with endless running elements and dynamic combat action all set in a dark corrupted fantasy world.
The striking feature of the game is the artistic silhouette graphics that brings an atmospheric noir experience. You guide your hero across a corrupted terrain and must run, jump, slide, and attack fantastical creatures such as wild goblins, orcs, skeletons and trolls along the way.
There are also traps and obstacles that will impede your journey and big bosses such as Minotaur and Evil Eye whom you must take on to succeed. You have a variety of weapons at your disposal which you can upgrade as you level up. In fact, you can even upgrade your hero stats and abilities to make your hero the most powerful warrior in the land.
The game features a fun Adventure mode with 40 missions as well as an endless Survival mode. Dark Lands isn't completely free to play. You can enjoy the Survival mode for free, but you'll need to pay up a little over a dollar, if its adventure you want.
Do check out the game and tell us what you think of it!