Dungeon 1on1 is a competitive shooting game that has you fighting against a rival for shooting down the most number of enemies in a dungeon.
The game has nice 3D graphics set in cool 80s' retro art style and your main aim is to knock off the creatures of the dungeon and earn more red skulls than your rival. At the end of a few rounds of shooting, the totals are tallied and the winner gets to spin a treasure wheel to earn some cool rewards.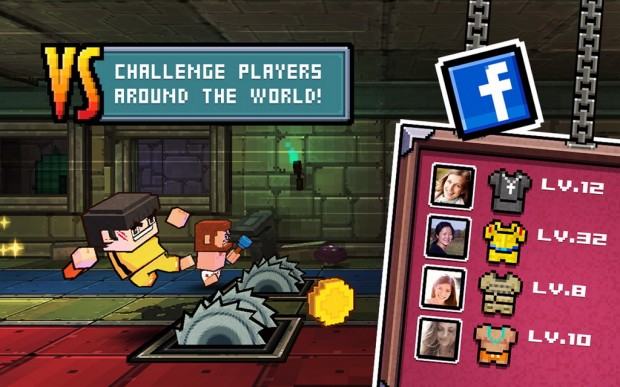 You have plenty of interesting gear to fit your character such as a chivalry suit, a golden armor, and a magician's suit, which you can unlock and upgrade as you earn more coins. If you wish to get extra lives, double your coins, repair your gear or increase the duration of your powers, you can hit the Store and spend some real dough to spruce up your stats and skills.
Dungeon 1on1 comes with an interesting social gaming aspect. If you connect to Facebook, you can call on your friends to join in your battles, even if they are offline. Friends can act as your shield and protector, but you can also use their armor to better equip yourself. You can also challenge players from around the world to a battle or two.
There are over a 100 levels in the game with daily challenges thrown in for a limited time everyday. There are also different types of shooting missions to add a bit of variety to gameplay. For the competitive at heart, there are in-game achievements that will let you see who's topping the scoreboard.
The developers of the game are promising to bring new content by way of fresh challenges and in-game events through regular updates. The game works best on devices with 1GHz CPU with 512MB RAM or above and dual-core devices or above, plus a decent internet connection. Price: Free.