Yet another shooting game to play this weekend comes from Mountain Lion, makers of games such as Zombie Diary and Doodle Runner. The game is called Space Brothers, and rightly enough, you play the airplane bounty hunting PUNK Brothers who are in control of a mighty spaceship.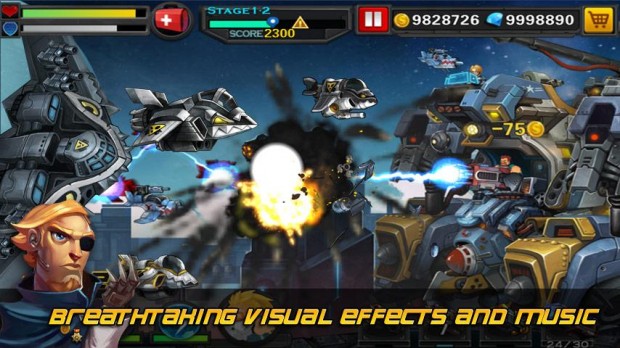 This mother ship is firmly planted on the right side of the screen. All you need to do is equip it with some cool weapons and tap, hold and scroll up and down to fire away at waves upon waves incoming enemy aircraft. Every plane you shoot down earns you coins. At the end of a successful level, your kills, shield level, and combo hits are displayed with the total amount of coins and diamonds earned.
Space Brothers has a big collection of weapons (13 guns of three kinds) that you can keep upgrading. As you level up, the enemy crafts also get stronger and the fighting gets more intense.
Although the game is basically shooting, shooting, and more shooting, there is enough variety of enemies, upgrades, and variety in gameplay to keep you coming back for more in short bursts.
Space Craft is available on the Play Store for free, if you're interested.