Well, I never thought I'd see the day when a Stickman would turn cheerleader. Now, I have, thanks to Djinnworks' latest sports game Stickman Basketball, which brings pop-pom swirling cheerleaders and fast paced shoot and steal actions in fun modes to Android.
As soon as you enter the gameplay mode in Stickman Basketball you are told that you can watch 3 videos to remove banner ads for 4 hours… probably a hint of things to come? If you keep swiping away on your phone, you'll see a useful Help & Training mode that gives you an idea of what to expect in the game.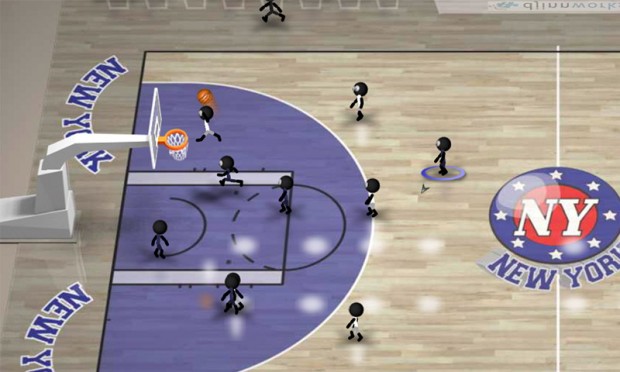 And as far as play is concerned its all good fun. You can make use of the manual virtual controls to move your stickman around, make a pass, switch a player, shoot or steal a ball and score.
In the Quick Game mode, which is the only option available to you at the start, you can choose your difficulty and control (manual or automatic) settings and set the match timings. You can then customize the jersey colors of your team as well as that of your opponents and then square off on the noisy courts.
The game has smooth easy controls, fun animations with half time jigs by the cheerleaders, and noisy crowds cheering you all the way. There are various other modes in the game such as Short Season, Long Season, DjinnWorks Cup, West Coast Knockout Cup, East Coast Knockout Cup, Top 16 Tournament, and Street Basketball. But you can't play all of them at one time. You'll need to win the first game to unlock the second game, or watch 3-5 videos or go pro to unlock the others.
The game has plenty of great content to play through and the design and animations can definitely get you sucked into it for quite a good few hours, banner ads or not.
You have options to play with 30 different skilled teams and you can sign in to Facebook or Google Play Services to show off your skills to your friends and climb up the leaderboard charts. You can also watch replays and share your coolest dunks with your friends. If you're looking for controller support, good news is that the game offers support for MOGA.
Stickman Basketball is fun, its fast, and its got great replay value. If you love Stickman, basketball or a combination of the two, do check out the game. Its worth your time.