A compelling story, exciting quests to undertake and a chance to compete with players globally could certainly be a winning mantra for any game developer. Kabam certainly appear to have got all that and much more right in their gorgeous looking action strategy game Runes of War.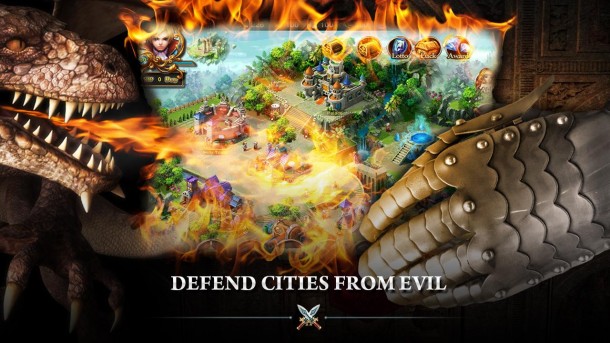 The game is set in medieval times in Camelot where the Dark Knight and his dragons have terrorized villagers and brought turmoil and grief to the kingdom. You take on the role of the Lord of the fiefdom who must recruit knights, create alliances, master ancient magic, gather resources and set out to overthrow the dragons and their dark Lord.
Runes of War will test your strategic skills to the hilt. You must thoughtfully plan and allocate your resources to build and grow your city. It's not just the offense that needs to be strong, you must equally take care to ensure that your defenses are able to resist the force of the Dark Lord and his dragons. Similarly, your success depends on how well you build up alliances with the other forces of good. The game offers plenty of engagement and interactivity as you build, craft, train, and study magic, explore worlds, solve quests and engage with players from around the world via Mail, Chat and other collaborations.
Runes of War is a visual treat for tablet users too who can experience the detailed character renderings and gorgeously drawn landscape in 1080p HD display. The icing on the cake? You can enjoy all that Runes of War has to offer for the price of free.