The Sparkle brand of games needs no introduction. Inspired by games like Zuma, this marble matching game has been entertaining Android players for quite some time now.
And considering there's really not much you can do in terms of innovating the game, it is surprising to see another installment of the game come to life in the form of Sparkle Unleashed.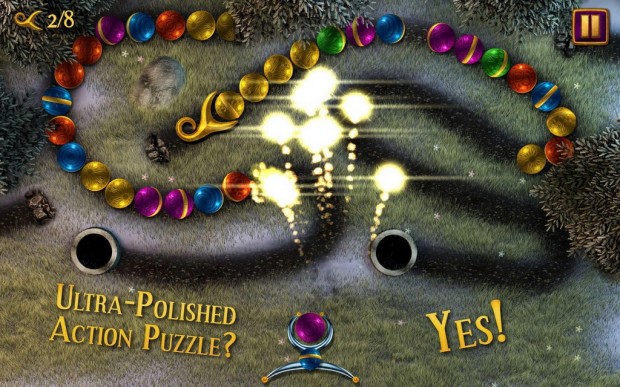 You still fling marbles off the orb to match ones of the same color that is sneaking and coiling towards the deathly holes, but this time your orb slinger isn't stationed in one location. You have a little more freedom in moving it around the base of the screen and targeting the moving marble chain more effectively.
There are also new types of challenges via chained orbs and rock orbs and survival levels. Plus you have 18 powerups to help you when the action gets fast and furious.
Award-winning composer Jonathan Geer lends his musical talents to the game, which adds great atmosphere to the nail biting action. The graphics are without doubt, ultra polished and of the highest quality.
Developers 10Tons are offering 23 levels of the game free to play, but to unlock all 108 levels, survival mode, and extra difficulty settings, you'll have to cough up a pretty penny via IAPs. Still, it's a fair deal as you can enjoy all the great new features of the game for awhile and then make a purchase decision.
Just hit the link below. It will take you to the Play Store where you can download and enjoy some more sparkling marble flinging action on your Android.