Want to play tennis and turbo skiing at the press of a button. Well, Namco Bandai has you covered with their latest game called One Button Sports. It shouldn't be too hard to guess what happens here.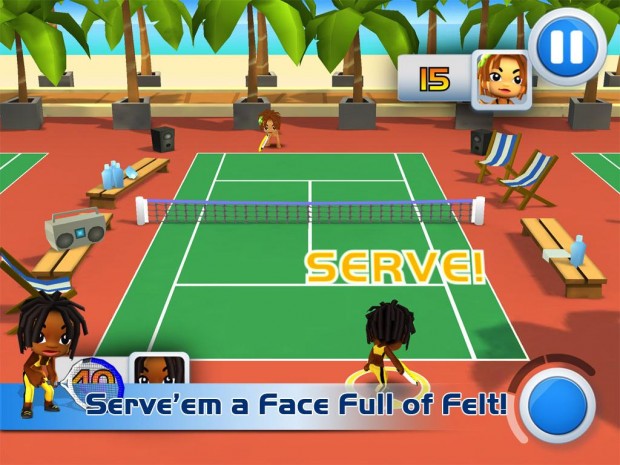 You have a range of good looking athletes to choose from. Take your pick, give him or her a name and hit Go. You can choose to play tennis or you can go turbo skiing. Each of the sporting events lets you play singles or doubles; in divisionals and tournaments. If you think you need to improve your strength, dexterity, and speed, you can head to the training room and work on those areas. That will of course cost you coins but you can also wait for a certain period of time to build your skills.
No matter what sport you choose to play you have just one controls option: a blue button. If you want to return a serve, just hit the button, if you want to accelerate on your jet ski, you hit the same button. The key to winning here lies in how early or late you press THAT button.
The game's other perks include temporary boosts which you can pick up in exchange for coins. Of course, the whole game revolves around currency and if you run out of it, ( oh! you will run out of it!) you can head to the shop and pick them up with real world cash. If you like to compete with friends, you have the option to sign in to Google Play Game Services.
The game's graphics are bright and colorful and the athletes are certainly lively and expressive as they win or lose events. As ordinary as this game may appear to be, I have a sneaky suspicion that you may end up playing more than you expected to. There's certainly no harm in giving it a go. One Button Sports is available on the Play Store for free.