Pirates are cool within themselves, sailing the seven seas and pillaging whatever they please. But wouldn't sky and space pirates be even cooler!? This is exactly what Exit Strategy Entertainment thought and has since started development on their new game Pirates of New Horizon which is currently seeking funding on Kickstarter. Pirates of New Horizon is to be a 3D action platformer all about what pirates do best; loot, pillage and explore.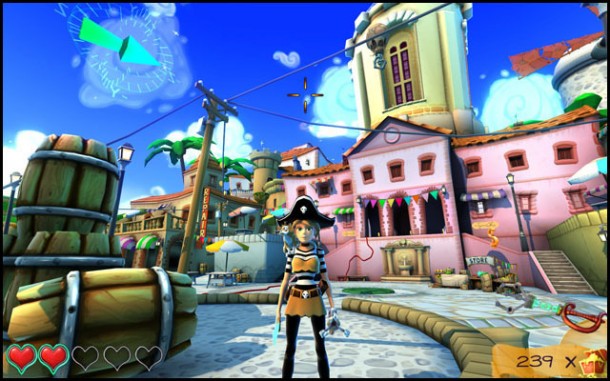 Exit Strategy has described Pirates of New Horizon with some simple comparisons. It has the platformer elements of Mario, the humor of Monkey Island, combat from God of War and art like Zelda. Honestly, that right there it it holds true is enough for me to back and buy the game right now. In Pirates of New Horizon you play a space pirate girl by the name of Annha who is assisted by a flying cat called Professor Henceworth and has access to many space gadgets such as a jetpack. Along the way you'll explore brightly colored and unique planets to search for gold and other precious minerals while fighting off robots, alien pirates and more. Money you loot can be spent upgrading your various equipment as well as buying a house to retire from your space pirate ways in.
Pirates of New Horizon, if funded, will be released on both iOS and Android with hopefully the first public release being in late January. Like most Kickstarter campaigns, Pirates of New Horizon has some stretch goals the biggest and most interesting being that if they reach $50,000 a PC edition will be made which I think would be awesome. If you're interested in Pirates of New Horizon check out their Kickstarter campaign where a backing contribution of only $5 gets you the full game when it is released.