Horses have the tendency to get spooked by just about everything around them, but in Nice Touch Games' casual time waster, they end up exploding too! Yep! When a bunch of crazy horses have bolted from the stables and are running loose on the screen, its your job to see that they are herded back to safety. But nasty bulls, raging tornadoes, trains and other dangers stand in the way.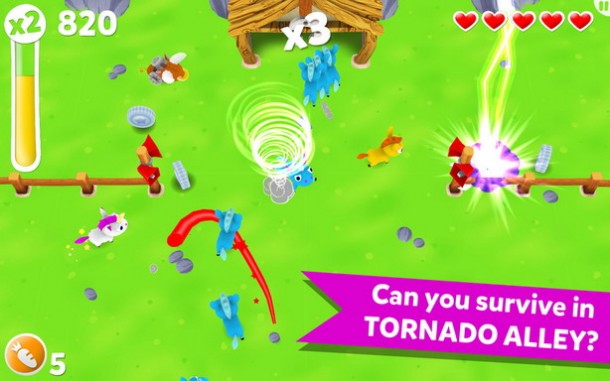 The game's simple mechanics means that you can draw a circle around a horse and then trace a path to the stables. Lassoing horses of the same color will fetch you more points, which can be converted into coins that will help you pick up some cool powerups at the store. Tapping on a danger will eliminate it, but if you lose a horse you lose a life and if you lose all lives its game over.
Crazy horses has a fun lighthearted theme, cute 3D cartoon graphics, lovable characters and fast frantic action that makes it the perfect excuse to play when you're in a casual mood. Got the time? Pick up and play Crazy Horses: Unstabled!. Its free.