An RPG title doesn't always have to have a heavy storyline, complex character development, and intense explorations and quests. Sometimes, these characteristics can be streamlined to a nano level and still provide enough entertainment and fun.
That's precisely what you can expect in spotGames' latest title nanoRPG. You play a brave hero who must save a pretty lass who has been kidnapped by an evil dragon.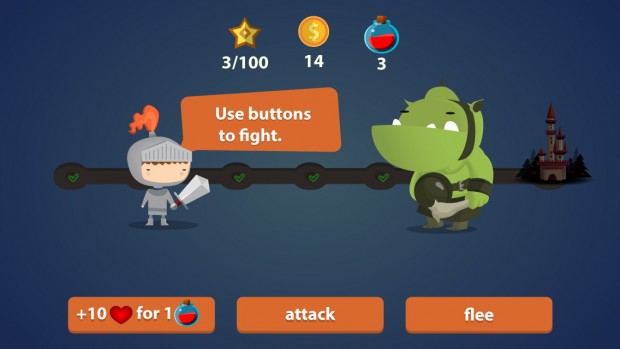 You explore your tiny world, fight off goblins and ghouls and take on a big boss or two before eventually dying. A stats section will indicate how much damage your swords can bring, how much of health you have left, and how much of your opponent's attack your shield can withstand.
Slain enemies drop cash which you can use to recharge your portions or fill up your health bar. If you've done a good job and killed plenty of enemies you level up, grow a little bit stronger, and fight some more.
There's plenty of death in nanoRPG and there's no escaping the fact that all your progress thus far goes for a toss. But there's a refreshingly good feel about the game that makes you pick yourself up every time and get back into the game.
nanaRPG brings small doses of fun in a light package and as long as you don't expect too much from it, you'll enjoy this one. Price: Free.