If you're going to be a responsible dad, you just have to stop playing those video games all the time. Look at what happened to poor old Mussoumano. His girls or latifas get kidnapped by evil trolls while he is absorbed in one of his favorite video games and now he has to take his magic carpet and camel and head off into the Arabian landscape to rescue them.
Mussoumano Game by Brazilian indie game developers Maqna Interactive is a fun runner that's set in a refreshing environment in the Arabian heartland. The game setting is eye catching with towering spires, earthen pottery, date palms, and inscriptions giving it an authentic middle eastern look. Not to mention, some delightful Arabian music that gives the game a great vibe.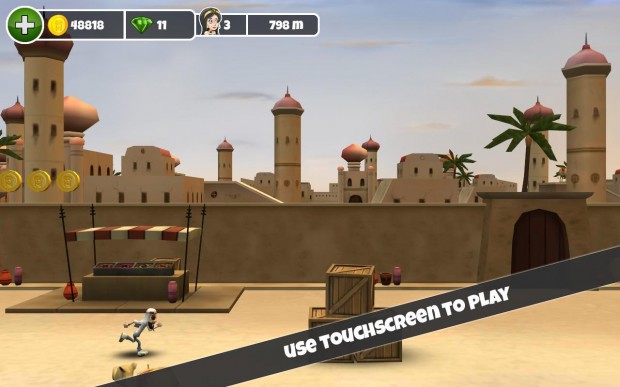 As with all endless runners you run, jump, and double jump across the platform, over crates, walls, and other obstacles to free the trapped latifas. Along the way you pick up gold coins and emeralds and rack up as big a score as you can before you die. And then you start over again. Powerups will pop in now and again and help you pump up your scores and gold collection.
If you accumulate sufficient number of gold coins, you can pimp a ride on a magic carpet, a really cool armored camel, a magic cloud and even an Arabian delicacy!
There are plenty of conversations and chitter-chatter in the game that sounded like music to my ears, but unfortunately, I couldn't understand a single word as it appeared to be in an unfamiliar language. It still sounded like good fun though!
Mussoumano Game isn't the most innovative runner in the market, but its unique middle eastern elements does give it a bit of a flair and who can resist a ride on a magic carpet anyway.
The game is free to download and play but you may sometimes feel the need to spend real world currency on those beautiful green emeralds that could give you another lease of life when you get knocked down before your time.