Larva Heroes: Lavengers 2014 from South Korean developers Mr. Games is a hilarious and unfailingly addictive defense game involving cute brightly colored larvae, who live in the rather attractive sewers of New York City.
In Larva Heroes you will control one of two larva characters, a red or yellow one, each having their own unique characteristics across a platform to the other end wherein lies the home of the devil. Various types of monsters emerge from the devil's entrance and you must larva-butt kick them to knock them off and then successfully destroy the enemy's home.
You can call on help from a host of engaging friendly units including beetles, snails, bugs and other colorful characters each of whom do a bunch of fun stuff such as throw stinky dung, do a dance of curse to decrease HP of enemy units, explode near enemies and so on.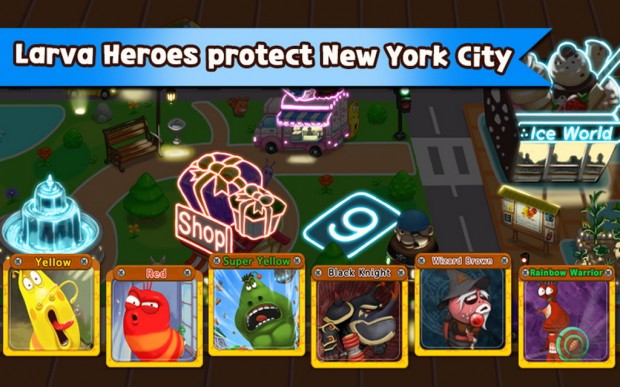 Sausages are the larvae's favorite food, which keeps falling from the skies. You are required to keep collecting the sausages along with certain special letters which fall down now and again. The sausages are an energy resource while the letters (when fully collected) can make your hero character transform into another powerful one for a brief while.
You will earn gold coins for your efforts which can be used to upgrade your skills, buy special items and power ups. Magic candy, the hard-to-get currency can be used to unlock new friendly units, special skills, and enchant items.  A fortune cookie that you earn at the end of a level might let you win gold, magic candy or other special items, if you are lucky. There are currently 9 gorgeous looking worlds, but they can be unlocked only by collecting sufficient number of golden keys.
Larva Heroes: Lavengers 2014 is a totally fun game that can keep you engaged for hours. Its bright and colorful characters will draw you in; its difficulty levels can challenge you even further; and its innumerable powerups, character unlocks, skills, items and upgrades will make you want to keep playing forever.
Best of all, Larva Heroes: Lavengers 2014 is free to download and play and IAPs or ads don't stand in the way of your gameplay. If you are a casual gamer looking for a good entertainer, this game is one you just gotta play.