With the financial sector still unsteady on its feet and the job market not doing as well as it should, its about time you thought about starting your own venture. The agricultural sector for one could be worth venturing into. After all, the world is forever in need of food and you could be the one producing it. But before you make the jump, get a realistic view of life as a farmer in GIANTS Software's latest farming SIM installment Farming Simulator 14.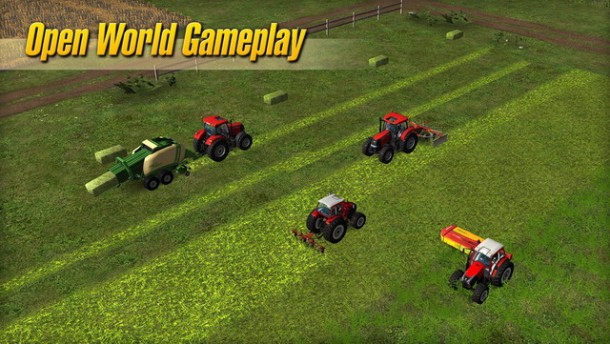 The original game Farming Simulator has been hugely popular since its 2008 launch, but now that a bigger, bolder, and more realistic iteration has been released players should have more fun learning the joys of sowing and harvesting crops. Farming Simulator 14 now features a brand new look with realistic 3D graphics that will entice you to discover the beautiful world of farming. You can take advantage of the wide range of farming equipment from top manufacturers like Case IH, Lamborghini, Amazone and Krone.
You can also employ agricultural workers to pick three different types of fruit, harvest corn, canola, and wheat, mow grass and create hay bales to feed your cows and so on. Then comes the joyous moment of selling your produce, counting your profits and then reinvesting them in new tools available in the Store. Over time, your farm will reap the benefits of your time and resource management skills.
Farming Simulator 14 also lets you play with a friend over local multiplayer mode using WiFi or Bluetooth. Ready to enjoy all the simple pleasures of farm life? You can download it for just under 4 dollars from the Play Store.