Played just about every type of car racing game on the Android platform and want to try something different? Then check out Thumb Motorbike Racing, a game that lets you race on some pretty cool motor bikes using just your thumb.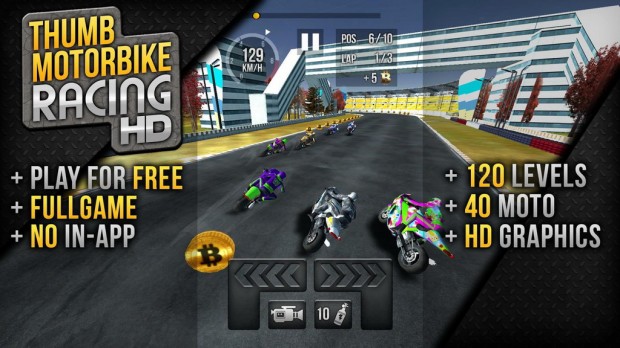 You can take your pick from 40 different motorbikes (with some fancy names) and race them across 120 tracks spread over 10 worlds. You have 9 opponents to challenge and if you manage to hit the first place you could win yourself some virtual Bitcoins.
The game plays fully in portrait mode, and with the bikes set to autorun, your only job is to maneuver the sharp bends using the left and right accelerators. Money earned in each race will let you buy boosters and unlock more powerful bikes. The game only lets you race against the AI elements and players who like online multilayer challenges or social interaction are likely to be disappointed by the lack of those features.
However, the fact that the game is free to play, and has no IAPs whatsoever makes it worth taking a look at.