TinyCo, the team behind Tiny Monsters has launched its latest game on Google Play called Family Guy The Quest for Stuff. The game brings all the characters of the popular TV show and pits Peter Griffin against the big bad chicken, with some hilarious and not-so-pleasant consequences.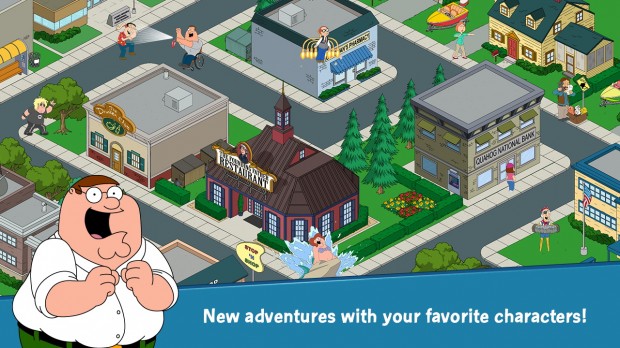 In yet another face off with Ernie, the giant chicken Peter manages to burn down Quahog and that's enough reason to play a game that will let you spend time rebuilding the city with your favorite Family Guy characters and embroil yourself in some hilarious adventures.
Along with fixing the city's problems, you will help Peter complete ridiculous quests such as becoming a pirate, stop alien invasions, as well as save the town from running bulls. You can also enjoy customizing the characters with cool outfits and decorating the town with stuff that includes the Petercopter, Peterdactyl, and Hindenpeter.
The game will be regularly updated to include content from the current shows so there's plenty of good stuff to look forward to, if you're a fan. The game is free to download and play but you can count on IAPs to speed things along.