DotEmu is at it again. They are well known for bringing classic retro games from the past to mobile devices in a way that does plenty of justice to the original. Their latest launch on Android is a point and click adventure series that you may have played in the early 90's, the Gobliiins series.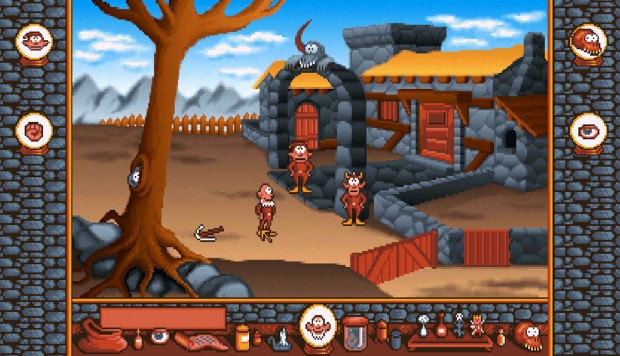 The developers have actually compiled three of the games, Gobliiins (1991), Gobliins 2: The Prince Buffoon (1992) and Goblins Quest 3 (1993) in to one sweet package and its available for your playing pleasure for $2.99.
In the first game, you help goblins Oops, Asgard and Ignatius find the remedy that will cure the ailing king Angoulafre. Each of the goblins, as you'd expect, have unique abilities that you must utilize effectively to succeed in each level.
In Gobliiins 2, it is a question of rescuing the Prince. You will have to switch between two diametrically opposite characters to achieve your objective. And finally, in Goblins Quest 3 you play a journalist goblin who must report on a conflict between the king and the queen  (read plenty of fun and hilarity).
All three games have been updated for playing on modern devices, but there's also something for players who like to see a bit of the classic features. You have two control systems, Touch and Classic, and you can switch between original graphics or go for video filtering for a richer and smoother experience. There's also a hint system and a hotspot system for players having difficulty with the puzzles. And you can enjoy all the original soundtrack while you're working your way through each game.
The Gobliiins trilogy has plenty of adventure, fun, color, humor, and puzzles to keep you engaged for hours. If you have a few dollars worth spending, you might want to mark this on your list of games to pick up.