Kids love cartoons and developers/networks have realized they can capitalize on this by making quality mobile and social games revolving around their favorite cartoons. Cartoon Network has done this a lot, especially recently, and so far has published games about Regular Show and Adventure Time. Going slightly older, now they have released Wrath of Psychobos, a Ben 10 game. While you may think a game based on a cartoon would be sub par, Wrath of Psychobos is actually very in depth.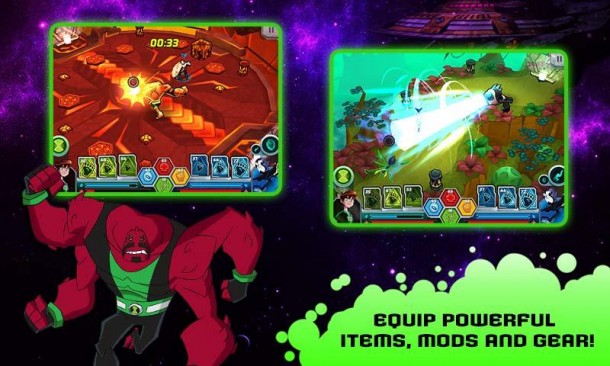 The general idea/story behind Wrath of Psychobos is you play as Ben (and Rook) as they travel the galaxy taking down bad guys and eventually Dr. Psychobos. Along the way you can play as 16 different alien forms such as Cannonbolt, Armodrillo, Rath, Bloxx, Eye Guy, Shocksquatch, Arctiguana and more. There are also 10 proto-tool weapons at your disposal like the Laser Bow, Whiplash, Proto Shield, Netcaster, Energy Sword, etc.
Like I said, Wrath of Psychobos is a fairly in depth game. Level wise there are 31 expansive levels across different planets with different environments. You'll have to not only battle various enemies but also solve puzzles. Wrath of Psychobos also features attack mods that you can use to power up yourself even more. So if you want to help Ben and Rook save the galaxy, check out Wrath of Psychobos – Ben 10; available for $2.99 on Google Play.