Betrayal by friends is almost impossible to forget or forgive, but if you have to spend 8 years in prison because of such a betrayal; well… that doesn't deserve forgiveness. That deserves retribution. And that's exactly what you do in Crescent Moon Games' latest Android launch, Optical Inquisitor 17+.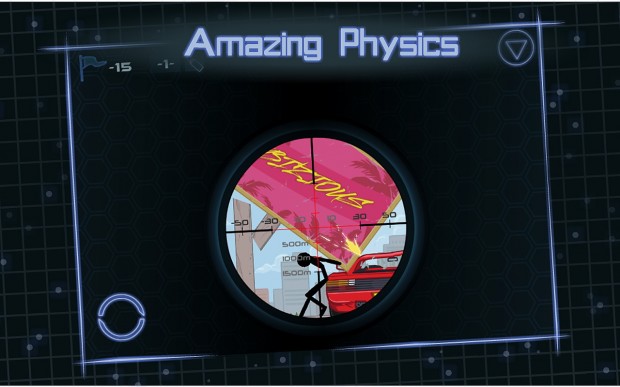 You play a stickman character, Tommy Rissken who has returned from a prison stint, ready to knock down his supposed friends who betrayed him. You employ a variety of creative (and often humorous) ways to knock off your enemies; shoot down a branch when your enemy is standing below it, bring down a huge boulder when another one is driving by or even employ crude torture to extract information such as tie up the guy horizontally between two trees and then squish!
Optical Inquisitor draws plenty of similarities to the 2010 shooter game Clear Vision, if you've played it. The cartoonish animations and ragdoll physics are refreshing and the cool 80's retro soundtrack from Perturbator, Vector Hold, Palm Highway Chase, Tommy, M-Town Vice and others is a delight to the ears.
The game has plenty of interactive elements within and you can even earn a bit of money in the casino to bribe informants or purchase upgrades for your weapons. Speaking of weapons, you have plenty of customization options available to build the one that will help you finish the job you set out to do.
Despite the title's +17 tag, I don't think its limited to anyone below 17 years. This one's free to play with options to buy stuff via IAP. If you've got time for a nice shooter, hit the link below.