It's impossible to keep track how many running games there are in the Play Store at this point, but the competition for this genre must be tough enough for 2K Games to create Turd Birds. Yes, that is the real name of the game. It certainly piques one's curiosity, and it gives gamers a clear idea of what they can expect.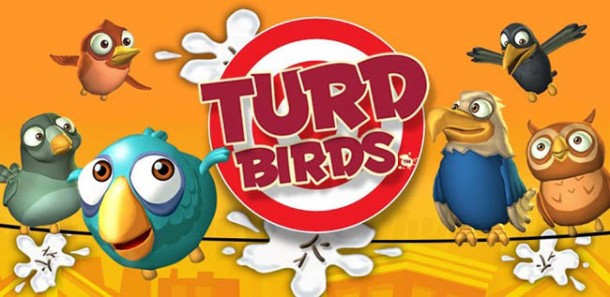 The power of poo
In Turd Birds, you are a little bird who needs to drop white poo on people below to earn money. Tap to release the poo, and swipe left or right to fly in that direction. There's a bit of a lag when using the controls, and it took me some time to find my rhythm in making the poo land successfully on people's heads. If you don't want to use the swiping controls, you can go to the game's settings page (cog icon on the main game menu) and enable the tilt controls. This lets you tilt the phone to move from left to right. It's a bit hard to control, as tilting to hard can make the bird move two lanes apart rather than just one.
Birds of different feathers
Other stuff like feathers, gift boxes, and power-ups are also hanging in the air for you to collect. You have to avoid running into high structures like rocks and walls. You also have to avoid passing under UFOs.
Money collected can be use to buy extra lives, better power-ups, and can even be used to skip a level or an entire world (Skip the City costs 25,000). In-app purchases are offered when you're low on cash.
Feathers, on the other hand, can be used to upgrade yourself. Other birds for upgrading include Beabee (poops faster) and Lester Droppings (bigger splatter).
Flights of fancy
The game also employs the mission motivation: accomplish something specific (like pooing 50 times) and get a corresponding reward. Most times, there are certain people indicated with their avatars on the left hand corner who will give you bonus points if you make them your priority target.
There are also other missions, such as buying items from the shop or accomplish a task a specific number of times. This makes the game more challenging, but it's not something you remember to do when you're flying along having fun pooing on everyone on the road.
The verdict
Despite the cheeky name, Turd Birds is a decent game with good graphics and solid game play quality. There's not much new it brings to the table, but it's engaging enough to keep you playing. It's nice to be able to upgrade yourself without having to make in-app purchases or earning a ridiculous sum of money. If you want something that's new to fill up your time, this game is worth a few rounds.