From tiny little country of Latvia, comes a brilliant puzzle and arcade game that hit the top ten games in the App Store in five different countries within a week of its launch. The game in question is Stay Alight and it is now available on the Play Store for your gaming pleasure.
Stay Alight follows the fight of an unlikely game hero called Mr. Bulb, who takes on a bunch of dirty microbes who are polluting this beautiful world. He uses his little power balls to light up the world and then destroy the little green villains who are hiding in all the secret places. The game also features little bits of hidden puzzles spread throughout the levels that you must discover.
Stay Alight makes use of physics based game mechanics to fling the little power balls and projectile weapons to destroy the fantastical monster microbes. And yes, there are some unique power ups too; superpowers that come in the form of earthquakes, sprays and more.
Stay Alight stands out for its outstanding artwork and amazing complementary soundtrack. For the game hungry fan, there's plenty of content too! 60 levels in all, split into three worlds with 20 levels each, with a yet to be released fourth world.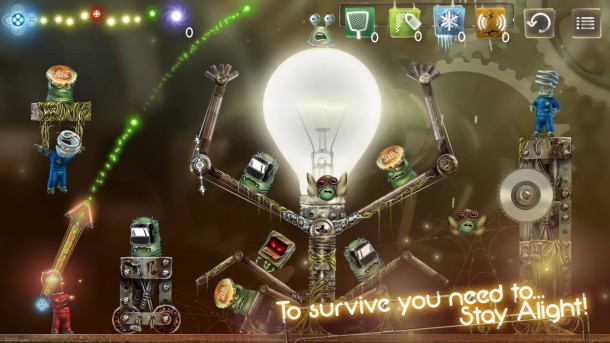 Here are some of the key features of Stay Alight.
Stay Alight: Key Features
Realistic physics based game mechanics
Great attention to detail and stunning graphics
3 world with 20 levels each
Plenty of superpowers: swatter, spray, freezing and earthquakes.
Hidden surprises and puzzle piece to unlock a mystery
Stay Alight also supports Arabic, Chinese, French, German, Italian, Japanese, Korean, Portuguese, Russian, Spanish, & Turkish.
Download Stay Alight ( Its Free!) and find out why this game is loved the world over!