A few days ago the New York Times posted an interesting personal piece of a guy named George Yao aka Jorge Yao which you may or may not have heard of. George Yao was the #1 Clash of Clans player up until recently when he announced his retirement from Supercell's biggest game. You may not think that is a big accomplishment but the New York Times article, titled Master of His Virtual Domain, outlines just exactly what Yao had to do to be the top and stay there. Long story short it took a lot of commitment…an insane amount.
Most people have probably heard of Clash of Clans and if you're a regular reader here on AndroidShock you may be an avid player or someone who has "retired" themselves. But if you don't know, Clash of Clans is a relatively simple city building game that also has a big focus on battling other players both offensively and defensively. In addition, there is a huge social aspect…hence the "Clans" part of the name. Gameplay consists largely of you attacking other players and also defending yourself. Joining a clan (there are over 40,000 of them) is a way to bring commardaire into it all which tons of people enjoy.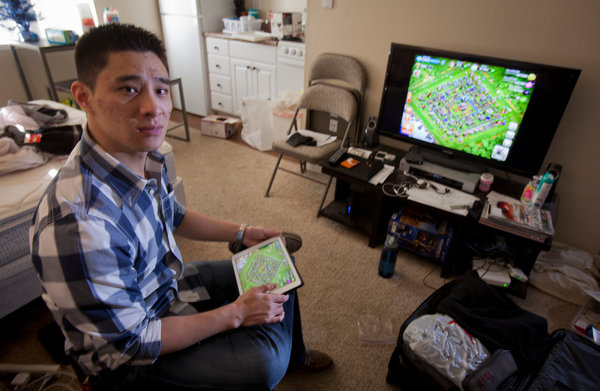 So what exactly does it take to be #1 in a game like Clash of Clans? Well, in Clash of Clan's case, ranking is determined by the amount of trophies you have which you earn from defeating other players but can lose them as well if others attack you. This means to get high ranked you need to be attacking and also defending yourself quite a lot and be online almost constantly seeing as how you can be attacked at any time. This also means eventually you'll have to succumb to the IAP atmosphere Supercell created in order to keep up with all your battles.
This is exactly what Yao did in order to become #1. At one point he was spending $250 on IAP every week but then actually got someone to sponsor him and pay for his gems if Yao would play his account when he was gone. This meant that Yao would have to play two accounts minimum. It then got even more crazy when Yao would sort of "game" the system into getting maximum shield cover. To do this Yao would clain his clan member's inactive accounts to then attack him just enough to trigger a shield. However, by this point Yao was playing over five different accounts just to keep up with everything. He ended up getting multiple iPads to be able to do this and would have to take them with him everywhere. Including putting them in plastic bags when he took showers. In all intents and purposes, Clash of Clans literally became Yao's life and job.
Eventually, Yao wisened up so to speak and decided to retire as his Clash of Clans addiction was having obvious negative effects on him. This raises some pretty big questions on how far people are willing to go to be #1 in anything. Would you spend over $200 a week on a virtual game to be #1 in a game? Would you spend every waking minute obsessing about a game to be #1? Yao certainly did and in the end it did pay off for him as once he quit Clash of Clans he got a real job promoting other video games which he enjoys greatly. Yet, getting to that point and going through all of that is certainly one heck of an experience that is amazing to hear about yet scary at the same time.