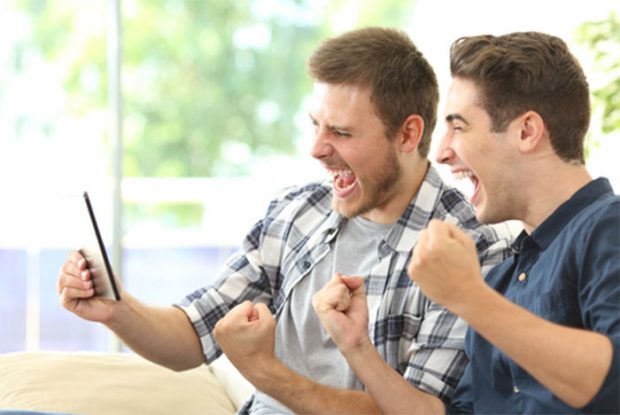 As the 2018 Major League Baseball season kicks off with the earliest Opening Day ever, sports fans have access to more mobile viewing options than ever. MLB is once again making 4K broadcasts available through satellite providers such as DirecTV and DISH. Major League Baseball viewing is also available again in virtual reality through the MLB At Bat app. Meanwhile, next-generation baseball video games such as R.B.I. Baseball 18, MLB Home Run Derby, and Home Run Derby VR are being released in coordination with Opening Day.
But to fully enjoy this cutting-edge entertainment, you need the right technology. Here are three tech upgrades that can help you enjoy the ultimate mobile and video game experience this sports season.
Viewer-friendly Mobile Devices
If you want to get the most out of your mobile viewing, you need the right type of device with the perfect viewing screen. A suitable viewing screen should be at least 5.5 inches, preferably larger. It should also deliver high resolution with a stunning display of colors and contrasts. It should further be powered by a processor capable of supporting superior graphics performance.
An example of a device that fits these requirements is the Galaxy S9 Plus. The Galaxy S9 plus offers a 6.2-inch infinity QHD display which curves and stretches around the phone's edges for maximum viewing size. It features a Super AMOLED screen with 2960 x 1440 resolution and 529 pixels per inch, with support for high dynamic range, delivering bright colors with rich contrast comparable to 4K Ultra HD TVs.
Mobile VR Headsets
If you want to enjoy virtual reality sports broadcasts and games on your mobile device, you'll also need a mobile VR headset. A mobile headset allows you to insert your phone into a shell with a pair of lenses that separates your device screen into two images for a 3D effect. VR headsets also include controllers for gaming applications.
Today's leading mobile VR headsets are the Samsung Gear VR and the Google Daydream View, both excellent options for Android devices, while options such as the ETVR 3D VR headset are available for iPhones. The Gear is compatible with newer Samsung devices, while the Daydream works with the latest Samsung devices as well as other Android devices. For baseball fans, the Daydream has the advantage of working with the VR broadcasts available on the MLB At Bat app.
Mobile Sports Apps
MLB At Bat is one of the essential apps for baseball fans. Available for both Android and iPhone devices, At Bat provides year-round access to live broadcasts, schedules, scores, news, and expert analysis, from Opening Day to the World Series. At Bat offers both monthly and annual subscription options.
Other top sports apps include the ESPN app and its companion WatchESPN app, CBS Sports, Yahoo Sports, and theScore. If you're a gamer, apps such as Home Run Derby are available as free downloads, while other games such as R.B.I. Baseball 18 are available as premium downloads.
With the right device, a good VR headset, and select viewing and gaming apps, you're all set for a superior mobile sports experience. Pull up your favorite sports chair, grab your home team's gear, get out some beer and peanuts and popcorn, and get ready to sit back and enjoy the season.