Who hasn't wanted to drive a big bad tank and take down everything in site? Of course, in real life that wouldn't ever happen so video games are the next best thing. Tank Battles, by Gameloft, allows just this in their tank based top down arena shooter. You'll be able to drive your tank and take down everyone in site on both singleplayer campaign levels and an intense multiplayer mode.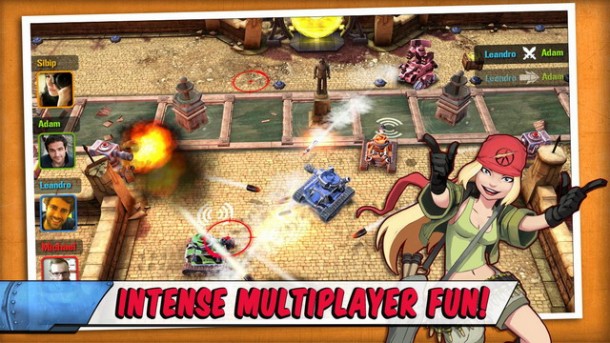 If you're looking for a long singleplayer campaign then Tank Battles is your game. Coming in at over 80 levels you will be kept busy for a while. Even more so due to the level of challenge presented. For me, though, part of the fun is how the levels are presented. Tank Battles' levels have a lot of neat features like destructible walls, closing doors, conveyor belts and more. If you're more into the tank aspect then Tank Battles also has you covered. Customization wise there are more than 90,000 combinations of  cannons, armor, treads, camouflage and more. Weapon wise your tank can be equipped with a variety of 22 weapons including mines, bombs, turrets and more.
After you've pimped your tank and beat the singleplayer campaign, you should check out the multiplayer modes. These are said to be and look incredibly intense and full of action. There are ten maps from the singleplayer mode that have been converted to multiplayer and offer the perfect fighting grounds. With so many customization options and weapon combinations multiplayer is where the fun is at. Download Tank Battles today for free on Google Play.