Endless runners appear to be the rage of November with Hunger Games: Panem Run, Agent P DoofenDash, Dumpster Dive!, Rayman Fiesta Run and Max Steel all competing with each other to vie for Android gamers attention. Chillingo, who already have a couple of endless runners to their credit are out with their latest called Rock Runners.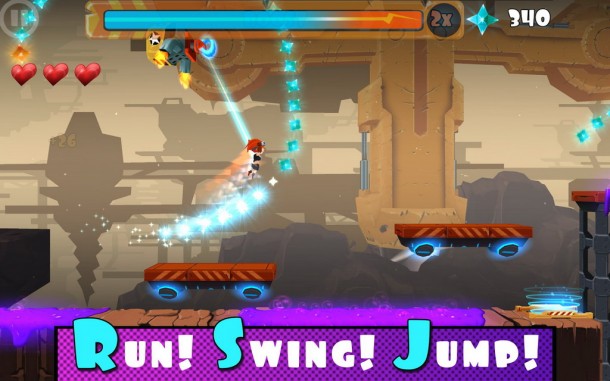 In this game you help a pint size hero run, jump and swing over puddles of radioactive goo to get to the finish line. The goal is to collect fuel canisters and reach the ship in each of the four worlds. Along the way you collect gems multipliers and boosts. Gems can be stored up and used to unlock upgrades and new game characters. Multipliers and boosts on the other hand tend to disappear when you make a bad jump or stumble over an obstacle so your focus in Rock Runners will be one thing and one thing alone: perfecting your timing. There are also three stars to be picked up at each level though they are just for prestige value and don't necessarily unlock new worlds.
Rock Runners doesn't bring anything new to the world of endless running, but if you're someone who has an endless appetite for such type of games, you can go ahead and download it from the Play Store for the price of free.