Creative Mobile's Mushroom Wars is a real-time strategy game that has never looked back since it debuted on the Playstation Network in 2009. It is a tale of aliens invading the peaceful Mushroom kingdom, sowing the seeds of hatred and despise between the different types of mushroom communities. Your job in the game is to lead an army of mushroom warriors to restore peace among the now warring factions.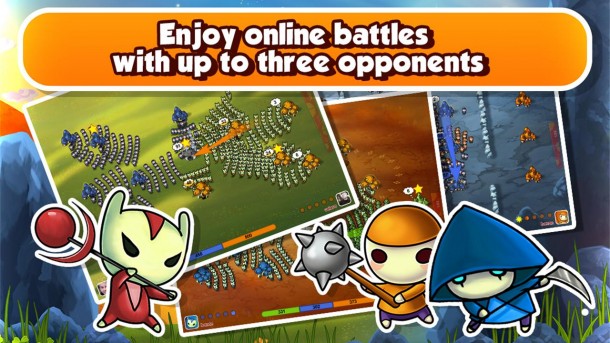 To do that you must build your armies, construct your villages, build defensive towers, upgrade your weapons, defeat enemy tribes and capture important locations. The game features a Campaign mode with plenty of missions and challenges set across 32 maps. You may for instance be required to capture all enemy buildings before a set time period, or simply capture a certain number of villages. The challenges get more difficult as the game progresses. The game also features an online mode for players who like to do three-way battles.
Mushroom Wars is a light hearted RTS game with delightfully cute graphics and easy pick-up-and-play game mode that should keep both kids and adults happy. And the best part, its free to download!