Indie game developer Pablo Anania has developed a fun, yet simple go-kart racer called Pixel Karts GP Plus which brings fast paced racing action in a unique retro styled platform. The game can be played in three modes if you prefer to go solo; Challenge, Single Race, Time Trial, while Time Race and Overtake Race are the modes available for local multiplayer.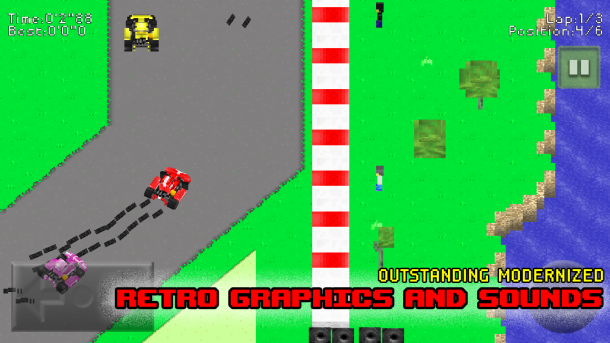 The game is available for free too, but you won't find multiplayer modes and a few additional features in that version. The Plus version features six tracks, one league and two kart classes apart from the various single and multiplayer modes mentioned above. The virtual digital pad and virtual analog stick (beta) controls will guide your tiny kart around the race tracks.
Here are some of the other features of the game.
Genuine old-school driving experience
Modernized retro graphics and sounds
Challenging AI
Seamless menu – race transitions
No in-game loadings
Each kart class has his own distinctive handling mechanics
Pixel Karts GP Plus is really a simple game when compared to the complex and complicated games that grace today's racing genre, but if you're up to playing something you might have enjoyed playing a decade ago, check out the game for $0.99.