Top-down shoot-em-ups have the best quality-to-crap going in the Play Store today. I have nothing in the way of statistics or facts to supplement this claim, but games like Monster Shooter 2 go a long way towards proving me right. As the follow up to Monster Shooter, a game that reached a very respectable 10 million-plus downloads, it's fair to assume developer Gamelion Studios knows what they're doing. As we all know, anything that's popular (for instance the music of Grammy-winning adult rock group Train) is automatically good.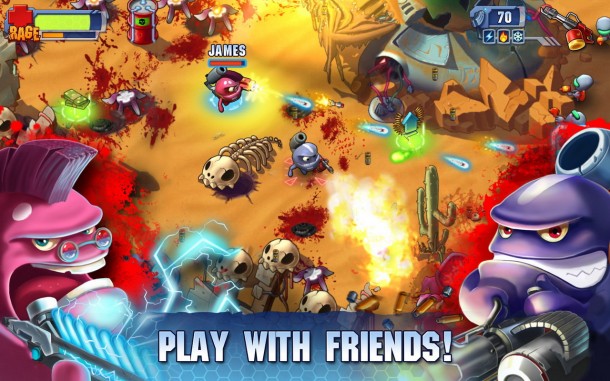 Unlike the standard futuristic military motif, Monster Shooter appears to sport a cartoonish, lighthearted vibe, with vibrant graphics and outlandish environments like the interior of a volcano. The promotional photos and videos also seem to indicate a large number of guns – some gaming experts indicate the number to range between a buttload and a big ol' buttload – with lasers and other fake-futuristic-weaponry abound. There's also a picture of a whale wearing a gold chain, which veers a little close to the so-called "random" humor that makes so many other games unbearable but still manages to be so ridiculous it's funny.
If anything about this title gives me pause it's the freemium payment model. I'm not familiar with Gamelion's other games, so I can't say exactly how they've handled the scheme in the past. As cool as this game looks it'd be a shame to see it get ruined by hobbled gameplay (or the constant advertisement and pestering of, say, a Gameloft). I suppose I'll save my whining until I have the actual product in my hand… not because I want to spare you the effort of reading it, mind you, but because I'm at my required word count and the game just finished installing on my Nexus. Until next time, kind readers!