Tired of playing regular golf both in real life and in game? Time to spice it up with a crazy golf game where you trade in your clubs for a cannon and your golf ball for a hamster…Yes a hamster. Boom Boom Hamster Golf is is a golf-esque mobile sports game from HammerCat Studio where you shoot hamsters from cannons.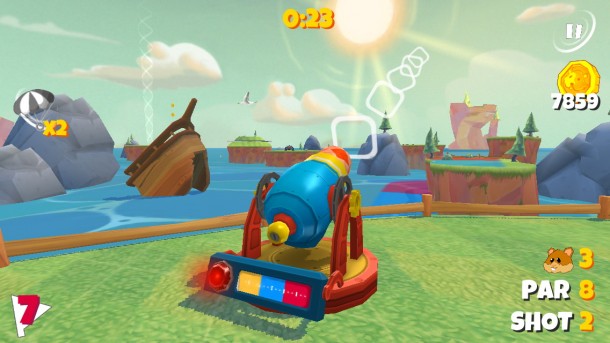 Like in a normal golf game Boom Boom Hamster Golf is all about getting your hamster to the finish hole in the least shots possible. To help in this task there are powerups you can purchase in game which make the goal a little bit easier. In Boom Boom Hamster Golf there is a 9 hole course (so far) comprised of exotic island locales rendered in nice 3D graphics. Instead of boring normal golf hazards like sand traps and trees, Boom Boom Hamster Golf has monsters and other crazy fantastical hazards.
In addition to the typical 9 hole course play mode, Boom Boom Hamster Golf features some nice mini games to help you in your practice and have fun in other ways shooting hamsters out of cannons. Overall, Boom Boom Hamster Cannon seems like a funny and fun mobile game that all demographics will enjoy.