It is hard to imagine microscopic creatures like the amoeba playing a role in a mobile game, but that is exactly what happens in Grab Games' latest Android port, Amoebattle.
Amoebattle puts you in charge of a group of amoebas who find that their peaceful microbiological world is threatened by an infection. In twelve intensive missions, your skills are put to the test as you strive to build up your microbial squad and eliminate the danger posed by the unknown infection.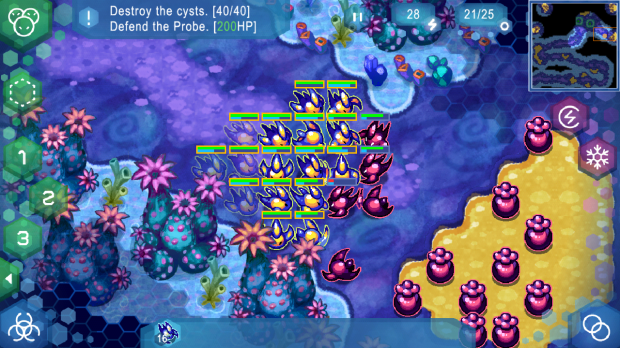 The amoeba themselves are of nine different varieties, each with their own unique characteristics. For instance, there is the Viper who can move really quick and the Ursa that cannot be destroyed easily. You initially start off with a single squad cell, but with proper nourishment you can split the amoebas into multiple cells to create a squad as big as 25.
Controlling the squad is accomplished by intuitive controls such as circling the tiny cells and then swiping them off in whichever direction you want them to go. The game gently eases you into the playing mechanism giving you a sense of comfort in victory initially before bringing on the tough challenges that will test your capabilities. The game's gorgeous watercolor/pixel hybrid graphics are an added complement to the game.
If you're dying to get in on some RTS action this New Year, you can grab Amoebattle from the Play Store for $0.99.