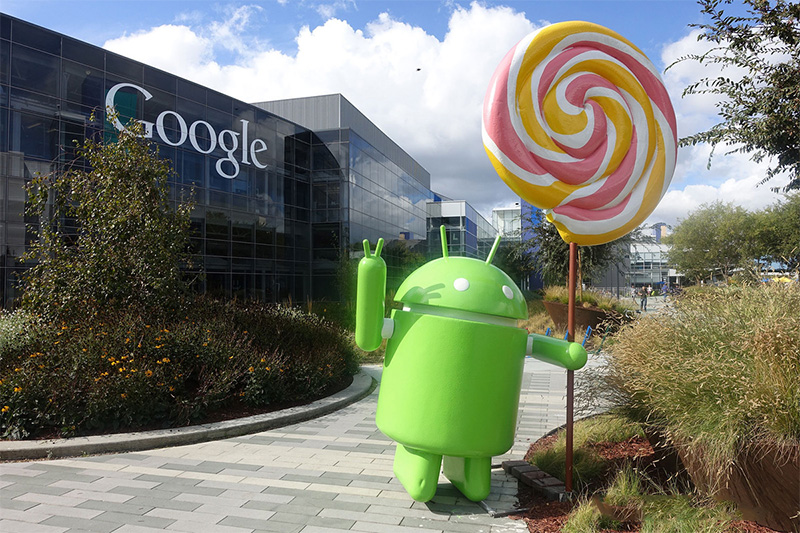 Mention the word "Android" to anyone before 2008 and you would have undoubtedly been met with raised eyebrows, a shrug and a hurried departure from your vicinity. Sure you would have contracted the occasional Trekkie that would have attributed the word to the character, Data, of Next Generation fame. But that's about it. Fast forward to today and there can be no mistake that when you utter the word Android, two things come to mind; Google and smartphones. On the latter portion of September in 2008, Google entered the smartphone market by unleashing the Android operating system for smartphones and tablets, and it has been a tour de force ever since.
Google's Android was meant to directly compete with Apple's iOS, which launched more than a year earlier in the second quarter of 2007. Together Android and iOS have captured 98% of the global smartphone market share. While this may seem astonishing, it is an even greater wonder to find out that Android's market share is 3.5x to 4x that of iOS. That means that at any given moment 75% to 80% of the world's smartphone market are using Android!
The success and prevalence of Android is mostly attributed to the blitzkrieg-like update cycles that made Google into the global powerhouse it is today. Rapid-iterations seemed to be the mantra of Android team and they used it to devastating efficiency. Devastating, that is to their completion, namely Apple and Microsoft. New versions of Android were being released every two-and-a-half months which is akin to moving at light speed when compared to the rest of the industry who measure their update releases in years, not weeks. There are pros and cons to this of course. With each release comes a learning curve for the consumer, but with each release comes new features, upgraded systems and better performance. Pretty soon, Android users got used to the frequent changes, the new designs and liked (for the most part) the addition of new features. Take the Play Store for example. Android's version of the App Store has undergone 5 remodels in 5 years, whereas its competitors would have 1 or 2 redesigns (at the most) within the same timeframe.
With over a million devices running Android activated everyday day, it is easy to why Google's OS has so easily dominated the smartphone marketplace. But it was not always so. Remember that Android landed in the hands of the public more than 450 days after Apple kicked off the smartphone craze with the first iPhone, and as a result Android was overshadowed and outgunned for a long time. The iPhone, with its sleek aluminum surface, modernistic straight lines and a plethora of quirky apps, brought a potent combination of sex appeal and ease of use. It wasn't until a several updates later that Android got its feet under it and started really making waves. Android 1.5 was arguably the turning point for Android developers. It is the first version of Android which had a virtual keyboard, which opened up so many doors for app development and device design. 1.5 also came with a built-in app that will be synonymous with global position systems (GPS) and navigation, Google Maps. It was also at this point that Google decided to give their version releases identities of the tasty variety, a trend that continues to this very day (version 1.5 was dubbed "Cupcake").
With each subsequent release Google has pushed the features, functionalities and capabilities of Android. Donut (v1.6) enabled Android to support CDMA which means that virtually every carrier in the world can network with Android. Then just 41 days later Éclair (v2.0) was released and along with system and hardware upgrades, Éclair ushered in a navigation upgrade to Google Maps that continues to serve as the benchmark for GPS-smartphone integration. Froyo (v2.2) made it faster, Gingerbread's (v2.3) UI overhaul made it more intuitive to use, and Honeycomb (v3.0) made it look flashier.
Much of the current iteration of Android was introduced in the deliciously named Ice Cream Sandwich, officially known as Android 4.0. Of special not in this release was the refinement of Android app distribution service, Google Play. Jelly Bean (v4.1) brought with it Google Now. Initially thought of as Google's response to Siri, Google Now's capabilities actually go beyond that of Apple's quasi-AI. With predictive and behavior recognition capabilities Google Now sought to revolutionize the way users interact with their smartphones, and how smartphones interacted with it users. The rise of the self-quantified movement and emergence of the wearable technology market was captured and integrated into the Android OS with the final update of Jelly Bean (v4.3). More than a year later KitKat (v4.4) made a splash, but with less feature upgrades, being more evolutionary than revolutionary. These iterative changes continued in the following version releases Lollipop (v5.0), Marshmallow (v6.0) and the current version, Nougat (v7.0), each approximately a year or so apart from the last.
While it may be easy to imply that Android development has come to a standstill, it can also be seen that Android developers are at the cutting edge of technological advancement. They are pushing against the ceiling and progress is being made, albeit at a much slower pace than before as they have to wait before the physical technology can catch up with what they know is theoretically possible. But one thing's for sure, Android's dominance in the marketplace remains uncontested on the global stage, and with the best minds of Google hard at work, it is likely to stay that way for a long, long time.
This article provided by https://www.domyessay.net/. This site object is write essay on many topics for students.