GunghoOnlineEntertainment's Dokuro is a fairy tale in black and white. Gamers who had the chance to play Dokuro on the PS Vita last year can easily relate to the Android port, but for the uninitiated, Dokuro is a sweet tale of the love of a skeleton for a beautiful princess. When the Dark Lord captures the princess to make her his bride, he keeps her locked up with a skeleton as her guard. The lowly skeleton falls for the beautiful princess and decides to help her escape his evil master.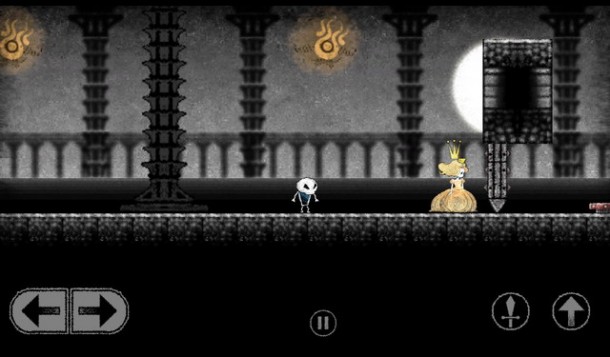 You take on the role of the love sick skeleton who is eager and ready to guide the princess out of the castle that is filled with dangers and traps. The game is a mix of action and puzzle, where you need to move boxes over traps, pull levers, open doors and solve challenging puzzles to clear the path for the princess to progress through. A unique twist in the game comes when you change into a hero form and become a dashing prince with a sword ready to tackle the beasties and carry the princess across dangers.
Dokuro's unique art style is certainly the eye catching factor in the game. Its dark and creepy, yet highly creative and moving. If you fancy an action adventure with challenging puzzles and are not put off by the rough artwork grab Dokuro from the Play Store for a worthy $0.99.