Glu Games have been having a busy 2014 with three games released in quick succession. If you already have Robocop and Eternity Wars 3 in your kitty, its time to pick up Defenders and Dragons.
This is a side scrolling platformer where you choose your hero class (Knight, Elven Ranger, Dwarf Warrior, Archangel and more), build allies, set up your defense strategy and then battle the enemy, in this case it's the evil Balewyrm's dark army.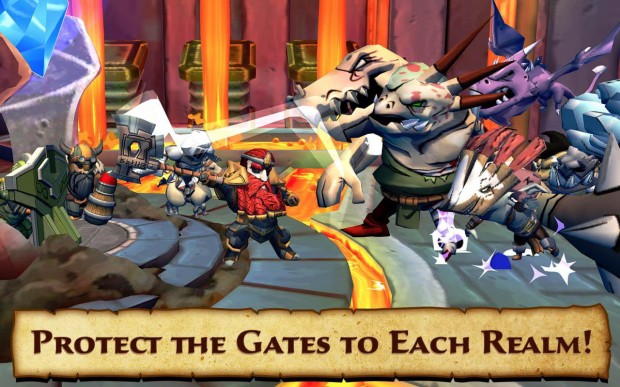 You have handy long range or close combat weapons at your disposal to tackle approaching emeries. As you fight them you must keep an eye on your diminishing health, carefully choosing when to break off from battle to regenerate yourself. Points earned during the game can be used to build your army of allies upgrade weapons and defenses.
As you progress through the game you collect currency and souls. The souls can be used to enter into multiplayer battles where you collect artifacts which will give you handy bonuses.
There are also daily challenges that offer an insight into other aspects of the game you're likely to play at a later stage. If you're shrewd enough to grasp the purpose of the challenges, it will help you in your choice of tactics and army units when you get back to the game.
Defenders and Dragons is a game that gets better the longer you play. If that's exactly the sort of challenge you are looking for, D&D is a game for you. Grab it from the Play Store for free.